Renewable Ammonia Production
New innovative production technology to produce large quantities of Ammonia using Renewable Electricity such as Solar Power.
Ammonia is the perfect energy storage medium for the agricultural industry as the product can be used both as a fertilizer and as fuel to farming equipment.
Small test rig to produce Renewable Ammonia up and running. Some technical adjustments is ongoing with initial test results to be obtained in August. Integral part of the Self Sustainable Farm project where a stage 1 project funding has been obtained from Agtec 2030 and Vinnova
Co-development of PCM materials together with PLUSS Netherlands and India. Cooperation in place aiming at creating encapsuled high temperature PCM materials for very dense energy storages (10x denser than water) to be used for high temperature steam production around the clock.
Development of cold storage solutions for the healthcare industry where e.g., vaccines could be stored for transport down to minus 33 degrees Celsius. License to market and sell all PLUSS PCM materials in Scandinavia from 2023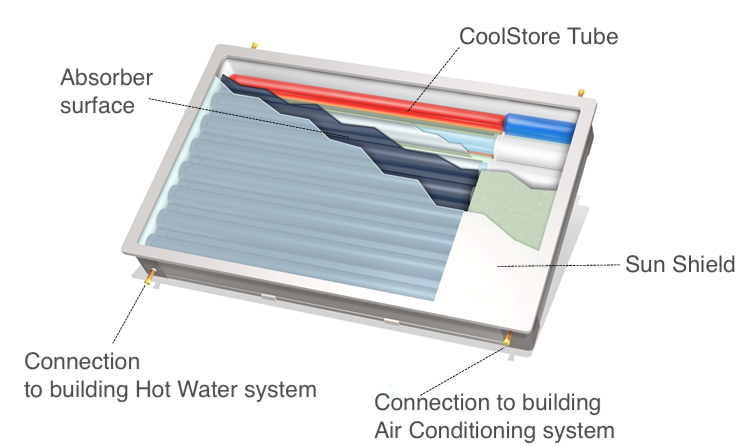 Solar Cooling and Storage
The Superstate Solar Collector is the world's first solar collector to combine heating, colling and energy storage. The Collector will be able to deliver solar heating during nighttime. Perfect for sunny days with cold nights.
Superstate Solar Collector is a product currently under development where one interesting application is to keep crops fresh in hotter climates off-grid by providing cooling directly from the sun without any need for electricity
Graphene Production Technology
New innovative production technology to produce large quantities of Graphene at a fraction of today's production cost
Graphene can be used for different applications e.g., as a coating to energy storage materials where early tests has shown improvement of thermal conductivity by 20% for Graphene coated materials. 
Superstate is currently designing a proof-of-concept project in collaboration with Stockholm University in Sweden. The project has been selected by Vinnova and has received a grant for further development
We innovate in collaboration with recognized organizations